[REMIX]
[php] include(TEMPLATEPATH."/includes/breadcrumb.php");[/php]
Wellborn Authorized Remodeler Program
Increase your sales and Boost your professional image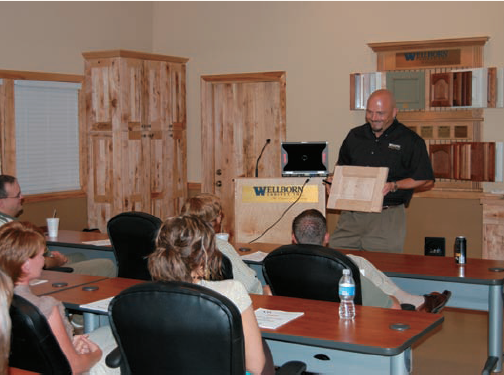 Capitalize on Wellborn's name recognition and advertising to increase your sales by becoming a Wellborn Authorized Remodeler.
Becoming a Wellborn Authorized Remodeler will not only set you apart from your competition, it will help you sell yourself and Wellborn cabinetry to your potential clients!
Authorized Remodeler Requirements
CDG and Wellborn are looking to partner with the Premier Professional Remodelers across Georgia. To ensure the Authorized Remodeler program is effective and a worthwhile investment for everyone involved, we are only allowing a select few Professional Remodelers in any given area access to the Authorized Remodeler program. While we welcome all professional remodelers to enjoy the benefits of Wellborn Cabinets from CDG, the Wellborn Authorized Remodeler Program is only for those Professional Remodelers who:
Are recognized leaders in their area of remodeling
Maintain memberships in Professional Organizations
Have a solid reputation and a demonstrated track record of satisfied clients
Are able to commit to Wellborn Sales of > 50K annually
Wellborn Authorize Remodeler Training Program
The Wellborn Authorized Remodeler training program is a two day EXPERIENCE at the Wellborn plant in Ashland, Alabama.
Introduction to Wellborn Cabinet, the Company, vision, mission & values
Increase Wellborn Product Knowledge
Explore Wellborn Advantages and Benefits
Investigate the Wellborn showroom for new design Ideas
Attend Installation and Finishing Touch Training Seminar
Experience Wellborn's commitment to Producing Quality Product during a Plant Tour
Have Lunch with the Wellborn Family
Relax and have fun during a 2 hour recreation period at the Wellborn Lake and Skeet Shooting Range
If you are interested in becoming a Wellborn Authorized Remodeler, Please contact Todd Whiddon by E-mail. The cost to attend the 2 day event to earn your professional designation as a Wellborn Authorized Remodeler is $350 and includes hotels, meals, training, and over $1,000 in Wellborn Sales Tools. From our Remodeler clients who attended the first Wellborn Authorized Training Program, it was well worth the small investment from the increased business, knowledge, and experience they had at the Wellborn plant!
Venue : Wellborn Cabinets, Ashland Alabama
Time : March 2-3 2009
The payment form below is ONLY for those who have been pre-Approved to join the program.
---
[/REMIX]